Aquarium / Fish Tank Services Southampton
Pondaqs offers a professional and dedicated aquarium & fish tank service that covers all your needs to maintain an attractive and healthy environment, including tropical coldwater and marine. Enjoy all the relaxing therapeutic benefits of an aquarium / fish tank in your home or workplace hasle free.
design
Whether you are looking to introduce a new aquarium or fish tank into your home or workplace or make changes to your existing set up, Pondaqs can design or redesign the perfect environment ensuring the aquarium shape, size and décor fits perfectly to your selected area and provides the best natural enrichment for your livestock.
---
installation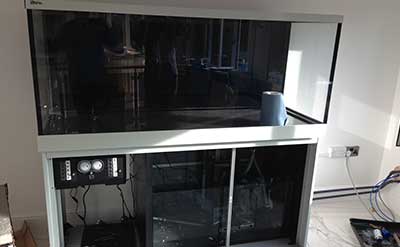 Pondaqs covers everything from large Bespoke aquariums to small filtered fish tanks, we can supply and install your perfect set up, then gradually add your livestock, ensuring everything runs just as it should.
---
transportation
Moving house is stressful process for you and your fish, let us take care of it for you.
We securely pack your livestock using pure oxygen for longer journeys, the aquarium / fish tank is then fully drained keeping the most of the existing water and all mature filter media to reduce stress and shock to to your fish at the other end. Upon arrival to your new home your aquarium will be situated in your selected location, the aquarium / fish tank will then be set up and the livestock re-acclimatised as stress free as possible.
Maybe you would like your aquarium moved to a different area of the home or temporarily moved to decorate or relay flooring, Pondaqs can ensure the stress free move you and your fish need.
---
maintenance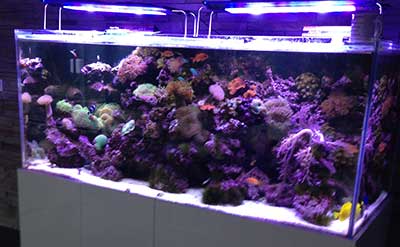 Certain aquaruims / fish tanks require maintaining and cleaning more than others, this depends on the overall set up and choice of livestock. Pondaqs offers regular visits, weekly, fourtnighly, montly, or one off.
The maintenance schedule generally consist of:
Livestock inspection to ensure your fish are happy and healthy
Partial water change to keep your water quality up to scratch
Gravel clean/hoover- this removes dirty particles which build up amongst your substrate , if sand the surface will be syphoned to remove debris
Algae wipe to remove both hard and soft algae from the glass giving you crystal clear vision
Filter service to ensure maximum water flow and clarity
Protein skimmer cleaned
Any required filter media changed
Coral moved/secured
Outer glass cleaned to remove any water marks or finger prints
Aquascaping
Plants trimmed
Required supplements, treatments added
Water testing where necessary
Check out our Galleries