Pond services in Southampton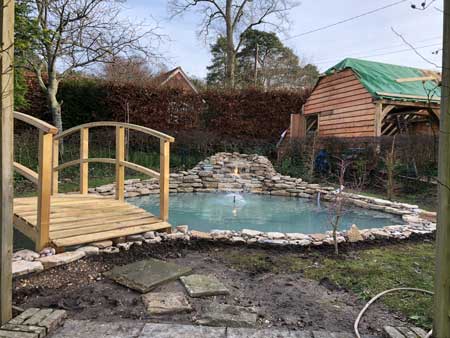 Pondaqs offers professional and dedicated pond services that covers all your needs to maintain an attractive and healthy environment for your livestock and plants including koi, natural, and mixed ponds.
If your suffering from blanket weed, green, brown or cloudy water we can diagnose and offer the best solution for the problem.
Filteration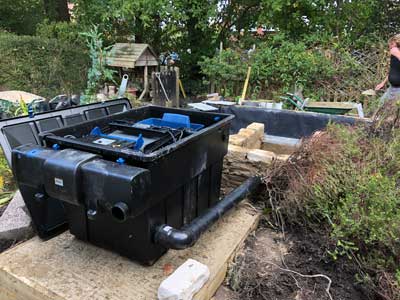 Adequate filtration is key to crystal clear water:
Pondaqs can calculate your pond volume, asses the location and stock levels, supply and install adequate filtration to ensure your pond achieves just that
Maybe you need additional filteration or equiptment added to your existing system to improve your water quality and clarity
UV servicing maintenance and installation
Re-commission your existing filter system replacing necessary filter media, pipework, connections and o rings
Fountain/water feature installation
Construction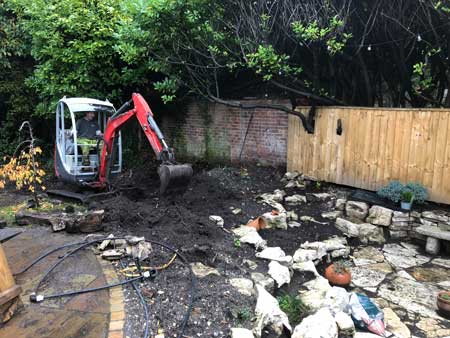 All aspects of pond construction and pond refurbishment undertaken, from small wildlife ponds to large specialist Koi ponds, tropical ponds to water features and hard landscaping, we have you covered.
We can carry out the following constructions:
Wildlife Ponds
Koi Ponds
Specialist Ponds
Water Features
Hard Landscaping
Maintenance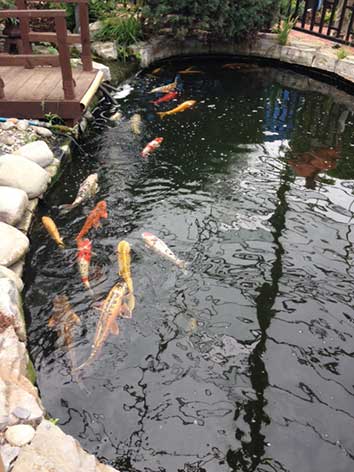 Pondaqs offers regular maintenance schedules to keep your pond running in tip top condition all year round. Maintenance visits can be tailored to suit your needs depending on the requirements of your pond, duration between visits can be from fourtnighly to every 6 weeks or even quarterly.
Pondaqs offers regular maintenance schedules tailored to suit your needs this generally consists of:
Livestock inspection to ensure you fish are happy and healthy
Filter service and pump clean
Removal of excess blanket weed & leaves
Skim any surface debris
Pond Vacum
Water Testing
Trim Plants
Add any necessary treatments
Cleaning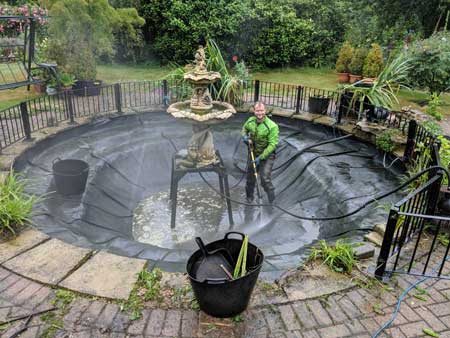 Over time excess waste and debris can build up causing poor water quality and clarity or provide a ideal environment for unwanted pests and diseases.
Certain ponds need cleaning more regularly than others depending on factors such as filtration, location, and stock levels.
The Pondaqs full pond cleaning schedule:
Remove and keep a percentage of the existing water recycling helps keep a biological balance for the pond and reduces refilling costs
Carefully removing fish and housing in aerated secure holding tanks
Remove all plants and pumps
Remove all remaining water, sludge and debris, this is normally dispersed around surrounding flower beds and planted areas its a great fertiliser for your garden
Jet washing liner and surrounding stone/brickwork
Replace existing pond water
Reintroduce fish and pumps
Refill using dechlorinater and fresh water
Filter/pump clean
UV service
Change any light bulbs
Propagate and re-pot plants
Repair any rips/tears
Water testing
All equipment is disinfected in between jobs to ensure there is no cross contamination between customers ponds.
Repairs / Re-line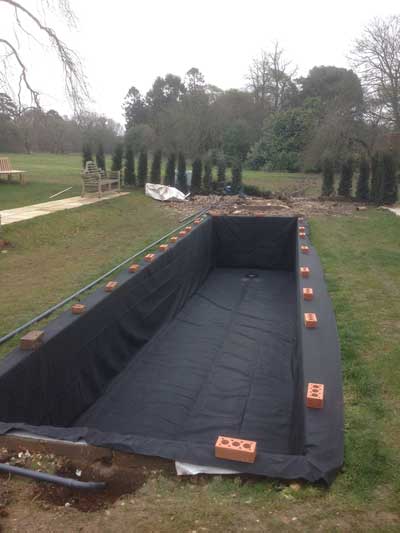 If you have a leaky pond Pondaqs can help, firstly we inspect where the the pond is leaking from then discuss the available options.
If its rubber liner, depending on the location and extent of the damage, the fish can normally stay in the pond. The damaged area will be cleaned, dressed, and repaired using custom heat seal patches, the pond can then be refilled right away.
Fibreglass ponds will be cleaned and repaired using fibreglass patches, the fibreglass then needs time to set. Depending on the location and extent of the damage the fish may be temporarily housed in holding tanks while the fibreglass cures. The repair will then be rinsed with fresh water and the fish reintriduced.
Pond liners don't last a forever, as a rough guide the average life expectancy for PVC liner is 10-15years, EPDM rubber liner 15-25years, Butyl rubber liners 20-30years.
Pondaqs offer a choice of the above in different thickness to suit your budget, where possible the existing pond edgeing will be recycled and re used, old liners will be removed and new underlay installed.
Waterfalls can often be the problem of a depleting water level, this can be easily diagnosed by switching of or diverting the supply, marking the pond water level and observing for a couple of days. If this is the problem Pondaqs will asses the waterfall to see if it can be repaired if not the waterfall will be dismantled, relined and re built.
Check out our Galleries